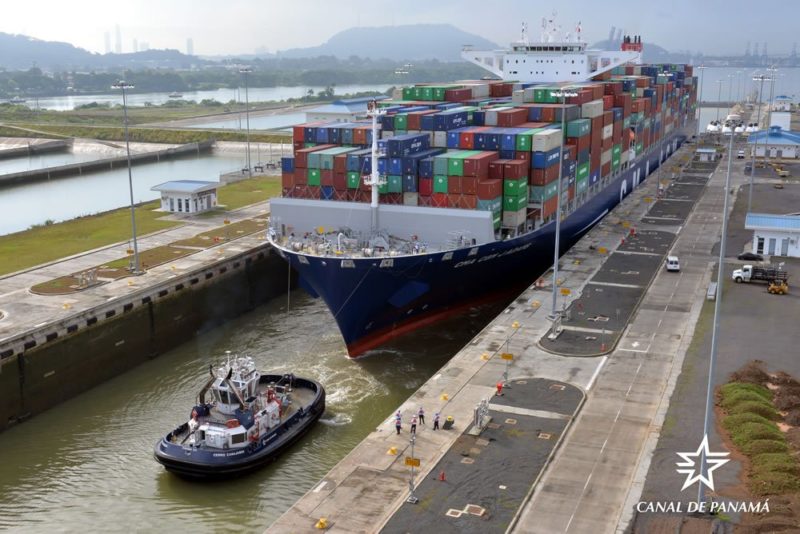 Cargo volumes through the Panama Canal grew by a less than expected 1% this year as the COVID-19 pandemic took its toll on global trade, the Panama Canal said Monday.
The Panama Canal Authority announced today it achieved 475.1 million Panama Canal tons (PC/UMS) in its 2020 fiscal year, which ran October 1, 2019 to September 30, 2020. This number reflect a 4% drop from expectations. Meanwhile, individual vessel transits fell 2% compared to FY 2019 to 13,369. The ACP attributed the nominal increase in cargo to steady number of high draft transits.
Cargo volumes in 2020 were impacted not only by the COVID-19 pandemic, but also the on going Trade War between the United States and China, the ACP said. The Panama Canal saw the most significant impacts in passenger ships, vehicle carriers and liquefied natural gas sectors.
In 2020, containerships continued to be top segment using the Panama Canal, achieving 166.3 million tons in FY 2020, or approximately 35% of total tonnage. Other segments included bulk carriers, which recorded 80.9 million tons; tankers / chemical tankers with 69.2 million tons; LNG with 46.4 million tons; and LPG carriers with 44.6 million tons.
The ACP said it started the year with tonnage above expectations, but by March it began experiencing negative impacts from the pandemic, particularly in the passenger cruise sector which closed early down 10 percent from what was forecasted, before normalizing in August and September. Other segments negatively impacted included vehicle carriers and LNG, which came in down 21% and 15%, respectively, compared to forecasts.
Negative impacts were partially offset by increases in liquefied petroleum gas and bulk carriers, which beat forecasts by 27% and 21%, respectively.
Also during FY 2020, the Panama Canal achieved a maximum draft of 50 feet for the first time in 20 months.
From gCaptain